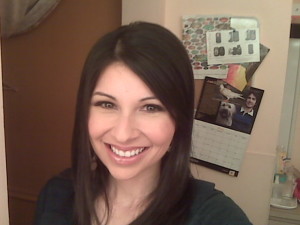 So I'm overdue in posting some photos. The above is a green room shot from Geraldo. It's actually a makeup room in the green room shot. Note the wee Josh Groban behind me.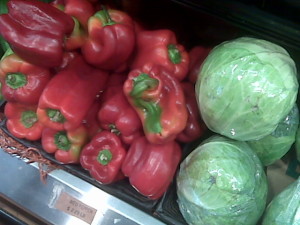 Oh and here's the world's ugliest red-or-is-it-green pepper. Do you see it? If I knew how to put arrows into photos I'd do that but let's see here. If you aren't seeing it, it's directly to the left of the cabbage heads in the middle row. I don't think this photo quite captures its horrifying freak of nature quality. It looked like it had a green tongue sticking out of it. And then when I went to snap a photo I'm pretty sure one of the grocery store guys took off to alert the boss in the back that there was some kind of vegetable narc on the premises. That's fine. I'm kind of a vigilante vegetable narc. I make a citizen's arrest of this pepper. Do not stare directly at this pepper.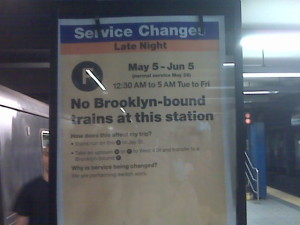 And this is why late nights are confusing lately. Maybe? I don't know. I'm too fired up about the pepper to really think about whether this is the sign that captures the confusion or not however basically it's very easy to misread these signs (there are a few different ones) and end up standing on a platform for a train that's never coming which isn't a metaphor but when it happens to you it's impossible not to feel like it's a sign of how you're living your life, instead of a sign about how you misread or don't read signs, which is also a sign.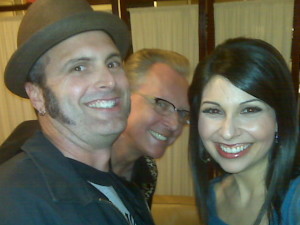 Oh hey and this is X's manager Mike Rouse, Billy Zoom of X and me in the green room at Red Eye. Here's an article about how I know Billy.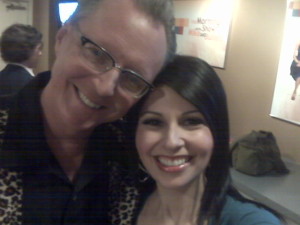 And then here's Billy and me.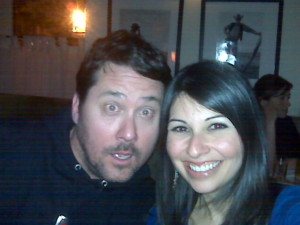 And here's Doug Benson and me. We were totally baked in this photo except for me. Thanks to his being in town I saw two plays and a comedy show last week. Left to my own devices I might have just taken photos of atrocious vegetables.
Oh and kind of related by not entirely but kind of: I'm trying to get the word out about The Daily Alison so if you enjoy it please tell your friends and if you don't enjoy it, please try to enjoy it. No, try harder!